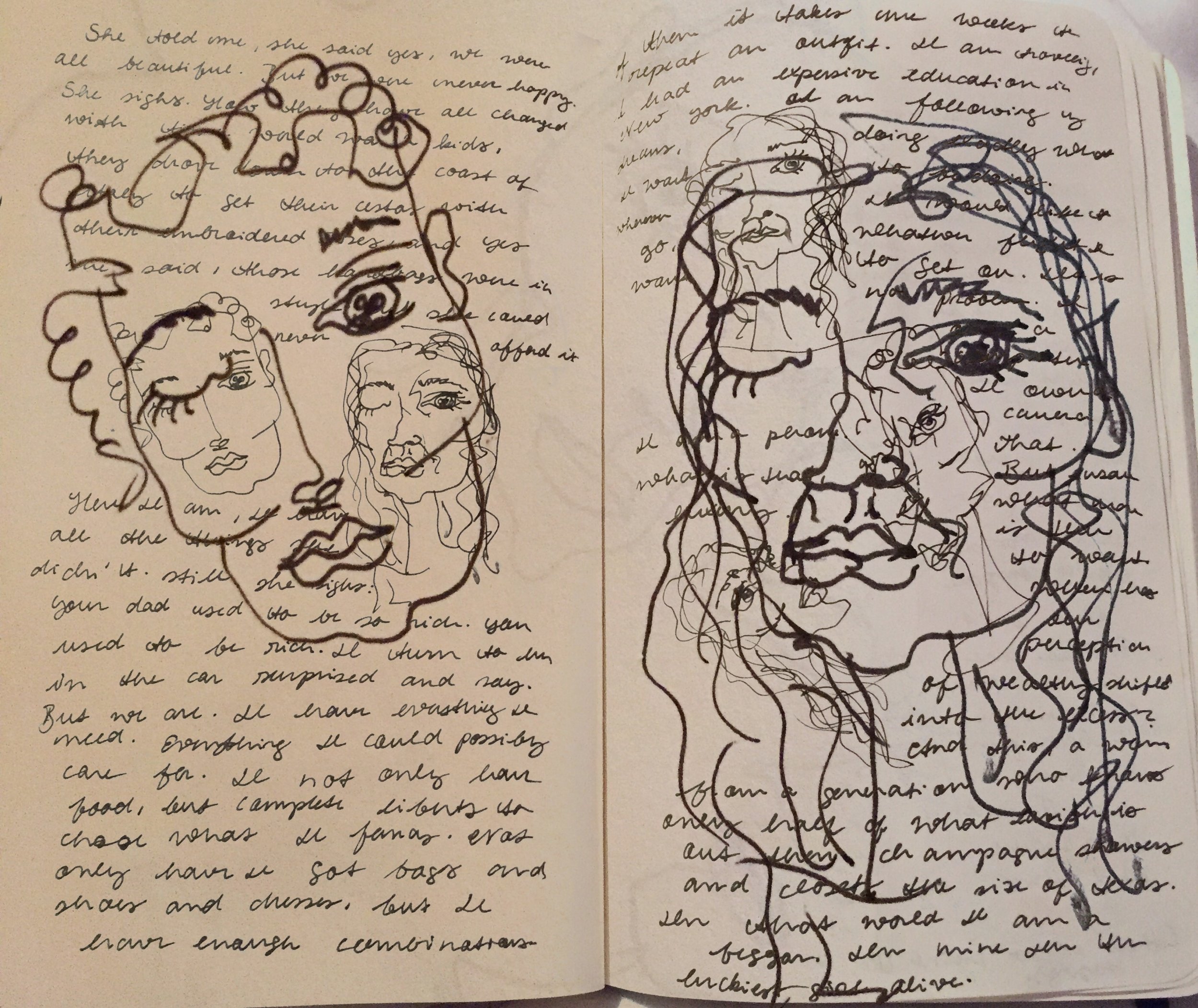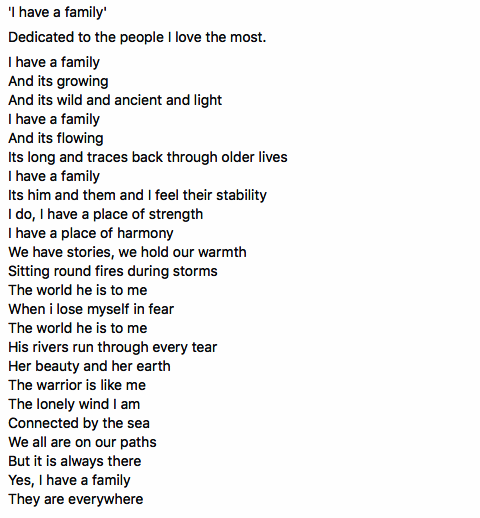 100 Days of Art
My name is Ocean LeClair, Im a european mixed media Artist and this is my project "100 Days of Art".
On the 8th of August 2017 I embarked on a journey into the rabbit hole that is my mind. My luggage: A camera, a guitar and some paint brushes.

For 100 Days I created something every single day and shared my pieces sitting on different floors in different countries at 1 and 3 and 5 AM. In tears and anger and heart wrenching hopelessness I conceptualised my mind. I published my work every night in an effort to communicate with the audience directly, transparently and through Kickstarter and Instagram people got involved.

Now you can see them all - 100 works in their full effect.
I dare you to jump into the rabbit hole with me, jump in fearlessly and tell me what you find.

Love,

Ocean
100. The Awakening
And this concludes my 100 day torture. Just kidding. Not really. This is not the end - This is the beginning. Thank you to everyone who went on this journey with me for the last 100 Days.
Here is to you,
Love forever,
Ocean LeClair
99. I am Ocean
The story of the creation of Ocean. "This is an oath. I dedicate my existence to you. If you look into my waters you will see the answers. When you look into my waters you will see yourself. I will stop resisting. I accept my mission. I dedicate my soul to the service of the source."
98. Lonely Artist Life
A music video to my song 'Lonely Artist Life'. I thought fitting, not only because of todays moods and questions but also due to my overall hermit existence while this project nears its end.
97. You need to know something
Good evening ladies and gentlemen this is a Public Service Announcement - You can change you you are at any given point in your life.
96. Moleskines
I like Moleskins because its pages are so soft and I want to fall asleep on them. And my thoughts do, my worries are put to rest and when its late my head too. But my ideas don't, my ideas are born in my mind and live a life in these books, and often immortalised, blown up, out of proportion and into metaphors. They are children and I watch them grow. Is all this love wasted on these pages? I would hope that whoever learns to read my writing will feel it, I hope when they open it they will see a sun shining into their face and their hands will grow warm. I hope they too can fill in the blanks. I hope they see all the forgotten letters and disappearing words. I hope they find the meaning behind improper grammar and spelling. But most of all I hope they find new meaning and I hope it changes their life. I really hope it changes their day if they need it to. I hope it unnerves them, comforts them. I hope when it gets cold my words can be their fire and I hope in the summer of their lives I am a breeze of fresh air and my words trickle down their throats like cool sips of water.
95. I-D-E-N-T-I-T-I-E-S
Pick the one that works for you.
94. The city that never really sleeps
'The city that never really sleeps'
Home is where the heart is and I left mine in New York
93. My grandad / What it feels like to be happy
How to be 82 and still play soccer with your grandchildren: 1. Live in the country side. 2. Eat only food from your garden. 3. Surround yourself with friends and family. 4. Be happy. A documentation of Dedek Elkos happiness. One of my biggest supporters who likes every video of mine on Youtube even though he probably doesn't understand any of it. Love you grandaddy.
92. 'I just really love this music'
I morning talk with jazz and tea got carried away... Fuck coherence, at this point I'm just making things that inspire or excite me and that I believe might be different and interesting to watch. A big part of this project has been the experimentation aspect, and while this might be strange to watch I enjoy the Woody Allen-esque vibe and am pushing through at 3:10 AM despite my negative energy account.
91. 'The Phoenix' (Pt. II
This painting on the left (by the way I upgraded to a Moleskine double the normal size just so you know the dimensions) I drew towards the beginning of my project (which is now nearing the end WHAT). It resonated directly with my heart from the very beginning, but it did not seem right to use it yet. I was still very much a (forrest) fire burning along in a dangerous chain of flames, scraps of paper, pain and paint. These last 20 days have been some of the darkest days of my life. Never have I felt more exhausted, burnt out and lost. There was no particular event that sparked it but I felt everything and nothing at all at the same time, stress and anxiety beyond anything I have ever experienced.
Today I am out of it, I can confidently claim this as true.
"Theres a reason to the madness"
If you listened to my song Phoenix on day 35 you will recognise this phrase:
"The Phoenix as a theme of my artistic scheme, I tend to burn and fly alone but my tears they can heal your wounds."
I fought through it, Im out the other end and I hope that I can be a light for you when you too are living in a sunless world.
"Love the Suns still there'
90. Fear
"What is fear but the absence of trust? We have been proven right in our fear over the years in our lives of course everyone has been hurt in one way or another but the biggest harm we cause is the one to ourselves that I don't fear Im not scared of that pain because I believe I deserve it and I do trust myself to be fair, to be hard on myself and to not compromise so the real danger lies in that power, the might I have to create my life and to destroy it So I don't trust my surroundings and the world and I suffer from fear I do trust myself and I suffer under my harsh judgement and punishment What if I embrace the world as a place of possibility I am pragmatic and smart and know to avoid most danger, and I trust myself in a different way What if I trust myself to keep myself safe and to make choices I truly want to make If I always act with a sense of security and confidence there is nothing to regret If I always stand behind my choices there is no sense of doubt, If I trust myself that there is nothing to fear I place my life into my own hands I take responsibly for every outcome If I trust myself, I trust my intuition, I trust life And I accept it, in every way it might come. There is no point to fear, because the duality of life is what makes it beautiful The fluidity of life is what makes us grow."
89. 'My heart, sadness & I'
A poem about my love triangle. My abusive relationship with melancholia and the weak little heart so easily seduced.
I really would love to write happy things and make people laugh, but her black shines so beautifully and her mystery is too seductive for me to let her sparkle in the distance.
88. My life energy
'My life energy'
My life energy. Where has it all gone?
We are gifted with a force to move ourselves and others and things. Push things forward. Things that start in our mind, only as a dream or a wish or a fantasy. And life energy is our fuel. How we make it reality. Its our power, our alchemy, our sorcery.
Don't waste it.
The most precious thing you own. Use it wisely and create to change the world.
'Who am I'
Today at the Jeppe Hein exhibition at the König Gallery in Berlin I participated in his interactive piece 'Don't expect anything, be open to everything', an exploration of 'The Self' and who the hell I even am. We started by introducing ourselves to every one in the room and then picked someone we were to tell 'who we are' beyond the physical, beyond the identity. Who are we really? I consider myself a quite self reflective person and did not expect to get much new insight, nothing I had't already considered, after all this is basically what we did at acting school. But after I tried to tell the third person who I was and what I was trying to do here on earth I realised how regurgitated it all sounded, how stupid- like why am I telling you this, we are the same collective and in the end it doesn't really matter what I tell you. But I also discovered something about me in my human shape which is that I really don't identify as a human, and consider Artists to be a completely different species. Its kind of comforting to know Im not a human when humans around me behave in ways I can't relate to and have to take a step back.
"Hello my name is Ocean, Im a new child and Im on a mission."
86. 'Who am I'
Today at the Jeppe Hein exhibition at the König Gallery in Berlin I participated in his interactive piece 'Don't expect anything, be open to everything', an exploration of 'The Self' and who the hell I even am. We started by introducing ourselves to every one in the room and then picked someone we were to tell 'who we are' beyond the physical, beyond the identity. Who are we really? I consider myself a quite self reflective person and did not expect to get much new insight, nothing I had't already considered, after all this is basically what we did at acting school. But after I tried to tell the third person who I was and what I was trying to do here on earth I realised how regurgitated it all sounded, how stupid- like why am I telling you this, we are the same collective and in the end it doesn't really matter what I tell you. But I also discovered something about me in my human shape which is that I really don't identify as a human, and consider Artists to be a completely different species. Its kind of comforting to know Im not a human when humans around me behave in ways I can't relate to and have to take a step back.
"Hello my name is Ocean, Im a new child and Im on a mission."
85. 'Fill your life beyond the physical'
84. Wonderland noise
Beautiful moments and a jigsaw of sounds. Silence over Music? What classifies as music. I suppose chatter and rooms and nature are genres for itsself.
83. 'Thank you'
A poem: This is a moment, a moment in time where i thank all friends and supporters of mine let me start Patrick by mentioning you, you were the first one the first one who knew, Rosie your excitement has driven me on, from the beginning your belief made me strong And Jess one might say that we're all in a race but you make me see that we all hold a place Fraziska your message it once made my night you said I was brave and I think you were right Ryan, Alberto for letting me know you were watching And Luiz & Lina your support has been touching Enea, Sofia your words make me rise I wish I could see myself through your brown eyes Elisabeth your vulnerable bond to my work makes me tell the truth even when it hurts Oliver you got the point from the start I'm creating myself I'm making more than just art Egil i thank you your soul is a rock when I'm ageing in lightyears you add time to my clock Hunter I thank you for egging me on that night that my art work again became fun Merle and Kitty your beautiful words made me feel understood and they made me feel heard Audrey together we fight for our dreams from a distance your drive it adds noise to my screams Achilleas the alchemist 'a crazy idea' Your calm and your laughter made humour from fear Same to you Elise, for your open door to you little talks to me so much more Tosca your rating made me laugh on a day where I thought that my sadness would not go away And this last one, this giant, my bestest of friends Dad without you I don't know where I'd end your eternal love gives me superpowers its 2 am but your love knows no hours everything I have everything i make everything I do it is yours to take The reason I live the reason I breathe I stay because i know you would die if I leave And these one hundred days that I carry them through These one hundred days I owe them to you.
82. 'Untitled Project 82'
'Untitled Project 82'
nondescript
81. 'So, I have a choice' A Poem
'So, I have a choice'
Aka 'How to get out of depression'
cause homegirl here is over it.
I wrote this poem after a day of wind and every possible thing sucked ass.
80. 'The stage is getting crowded' (1/4)
Today a socio-critical piece (how revolutionary). In the first piece I'm expressing my frustration in everyone being an artist and everyone asking for an audience, of course completely aware of my own hypocrisy.
80. 'The artist isn't trying to say anything' (2/4)
The second piece expresses my annoyance at the 'cool' artists, and their safe works with very little content and lacking the very thing I value in art - vulnerability. It also grazes the fact that we recently have been reading gender issues and political meaning into everything we see.
80. 'I really relate to her (marketing teams) lyrics' (3/4)
The 3rd is a satire directed towards the music industry and their marketing masterminds.
80. 'Women in Hollywood' (4/4)
And last but not least just your everyday audition as a woman in Hollywood.
79. 'Windows to different dimensions' (1/3)
'Windows to different dimensions'
& 'Philosophy/the unnecessary Art of thinking/
An Illusion that any of this matters.'
Thoughts from my journal:
This is my story. This is me? This is me...
No. That can't be right. If the world as we know it is an illusion. If all there is is the moment. If what I see is now, 'they' don't exist. My mother, my brothers, my problems.
Because I can't see them.
But is this an ignorant way to see the world?
If we accept what we see as the only reality, that can give us great power. It can also give us great pain.
If you only believe in what you see - do you believe in Love?
If you're lonely in the Now and the Now is all there ever will be - are you condemned to an eternal permanent state of loneliness? Does this take away your desire to change?
Does that come with living in the moment?
All those hillbilly country people that just take the days as they come - maybe they are doing better than us.
I heard someone say the other day "We need more audience members, there are too many people on the stage".
That is depressing. That makes me mad -
But I am no different. I am screaming - Listen to me - Listen to me - I am worthy - I have something to say!
I am a hypocrite. I say all these things, but do I live them?
Can I live them?
Maybe we do need more followers - More followers and less thinkers. It's so easy to give advice. It takes strength to follow it. Why not lay back and live in our minds where we are everything we think we are.
But the moment is all there is. Right?
Why not just say what you know. What you are already doing. Before that it's not advice - It's just an idea.
Nothing more. No proof that it works. The moment is all there is. Commit.
None of us commit - multitasking. Because why would we give all we own? All we will ever have (the moment) for something so -
Well who do I really trust to handle something so delicate and so scarce?
The most valuable thing we have is time (its our currency).
At the end of your life - How much time have you wasted?
But time - An illusion.
All our thoughts (including this one) - Illusions?
How far does this go?
What is an Illusion? (define it)
Just something we don't see. (right?)
Are we freed if the invisible remains unseen?
But all that is Now STARTED in that Illusion - that thought - that idea.
So maybe we do need more thinkers.
79. 'Windows to different dimensions' (2/3)
79. 'Windows to different dimensions' (3/3)
78. 'Mabel Osborne'
'Mabel Osborne'
My interpretation of this Poem by Edgar Lee Masters
(sorry all of this is getting so depressing)
77. 'The beautiful'
'The beautiful'
The room was filling up
Full of beauty
Rich smelling humans in golden skin
in woollen sweaters, pencil pants and leather shoes
Laughs and the type of mutter that blends into each other
My meditation tune
The soundtrack I wish to my life
Just conversation, in the background clinking glasses
expensive scents
Important faces and lamps the perfect tone of candle light so we all look even prettier
The pretty life
The surface
The part of earth that nothing else can touch
The privileged
The beautiful
76. Dementors
A lot of ugly crying from that time I broke down watching Oprah interview J.K Rowling.
This whole project has not been easy, but you're probably rolling your eyes since Im always saying that. Aesthetically I am not making things I would stand behind every single day (then again I'm not beautiful or happy or beautifully melancholic every single day) but they are truthful and hopefully touching and at this point that is more important to me. Getting it all out, killing the old and I guess when all this is over starting fresh with a project in my back pocket that holds the darkest sadness of me, stored away, and I'll have moved on from it. I'll be free.
75. Unscripted thoughts about loneliness
I feel lonely. I really want to change that. I think.
74. 'My wish'
Another poem you ask. I wrote it this morning in such beautiful harmony and it was running through my mind all day I had to make it part of my project. Reflecting on my house, my wish, my favourite things, the seasons, peace, a book and a cat. What I seek in life, harmony. Somewhere to come back to and tell of my adventures. Collect treasures in my nomadic life and bring them home to their places, they've been waiting for you. I am (Im)patiently waiting for you all. For the house, and all that comes with it.
73. 'You? You.'
'You? You'
"What if you had the chance to start again?
If it meant all your problems and thoughts disappearing would you leave your past behind? How far would you go? To release the ghost. The voices and images racing through the mind you lost control of as they taught you and you learned that what you see is all there is. That what you see is all you'll get. Your brain has been branded and boxed. What do you really like? What do you really want? Is it important to know? Is any of that real? We invent ourselves, we pick, we decide. We are valuable. We are fluid. We are stars. We are all part of the same sky and each of us is a Sun. Our lives are ours. Purpose? Growth. It does not matter who you are. You don't have to make sense. You decide what is real?
You? You."
72. 'Love, the Suns still there'
I hope the fact that I've never been more miserable in my life translates well in this video. deuces, Ocean
71. 'The Suns still there'
70. 'Slovenian in the kitchen'
Hang out with me and my grandparents in the kitchen for a minute while I teach you the little Slovenian I know. Surprisingly all food related because my grandparents say Im too skinny and offer me food in every breath. I took it without complaint since all their vegetables come from their garden and Im a bunny rabbit when it comes to dandelion greens and radicchio. The garlic smell I emit won't leave me for the rest of my life I'm afraid, but I feel like I'm 20 again (this is funny because I'm only 22).
69. 'I will be their Sun'
A narration fresh from the soft pages of my Moleskine. It's the tale of my recent mornings. The first moment of drawing the curtains, opening the window and looking out into the crisp lively morning. A reflection on the feeling of anticipation, possibilities, all the dreams that are still dreams. The moments when we connect to our future in such a strong way that the desire and the yearning disappear completely - they are already there. I am their sun.
68. 'A moment with my treasure chest'
My nails are dirty from paint so that still makes it elegant. Look through my treasure chest with me and get transported to my past, my time in New York, through pieces of paper that weigh more than the Empire State building in meaning and dried flowers, shells and ancient lovers. I smiled when I finished editing this piece, I hope you feel that.
67. 'The Story of Norbert'
Just a picture of a toadstool hybrid?
As an artist curating my own virtual exhibition I sometimes have to make cuts and adjustments and yesterday was such a day.
A big thing I have learned throughout the process of this project is that just because you CAN make something that doesn't mean you should. I am past the point of posting mediocre work just because I need to post a project. I am past the point of posting something that looks like it was a lot of work just to ensure everyone that I'm not losing motivation or dropping the whole thing while I'm travelling. The truth is this project is still all I think about. I am silently waiting for the idea to wash over me, for that aha moment of coherence and meaning. When I am on my own in a room all day that works pretty well, but when you're running around in a house full of relatives that chatter happily in Slovenian and declare you a workaholic while they force-feed you the most delicious soups and stews that have ever touched your lips the waters can get muddy.
I stayed up past my eyelids and all capabilities of clear thinking and fell asleep while my video project was uploading to Youtube.
There is a file on my desk where I carelessly drag discarded projects into. 'The island of misfit toys'. Long story short - when I woke up this morning anxiety was washing over my body and a clear thought kept repeating itself over and over: You cannot post that, that cannot be day 67. So right into the folder I dragged it and searched the waters for a clearer message and something to ease my obsessive compulsion. This is the picture I stumbled upon. Taken yesterday in the forest, I believe it tells my story much better.
'The Story of Norbert' - A picture tells more than a thousand words. A picture tells more than that stupid project you spent hours on but ended up meaning nothing.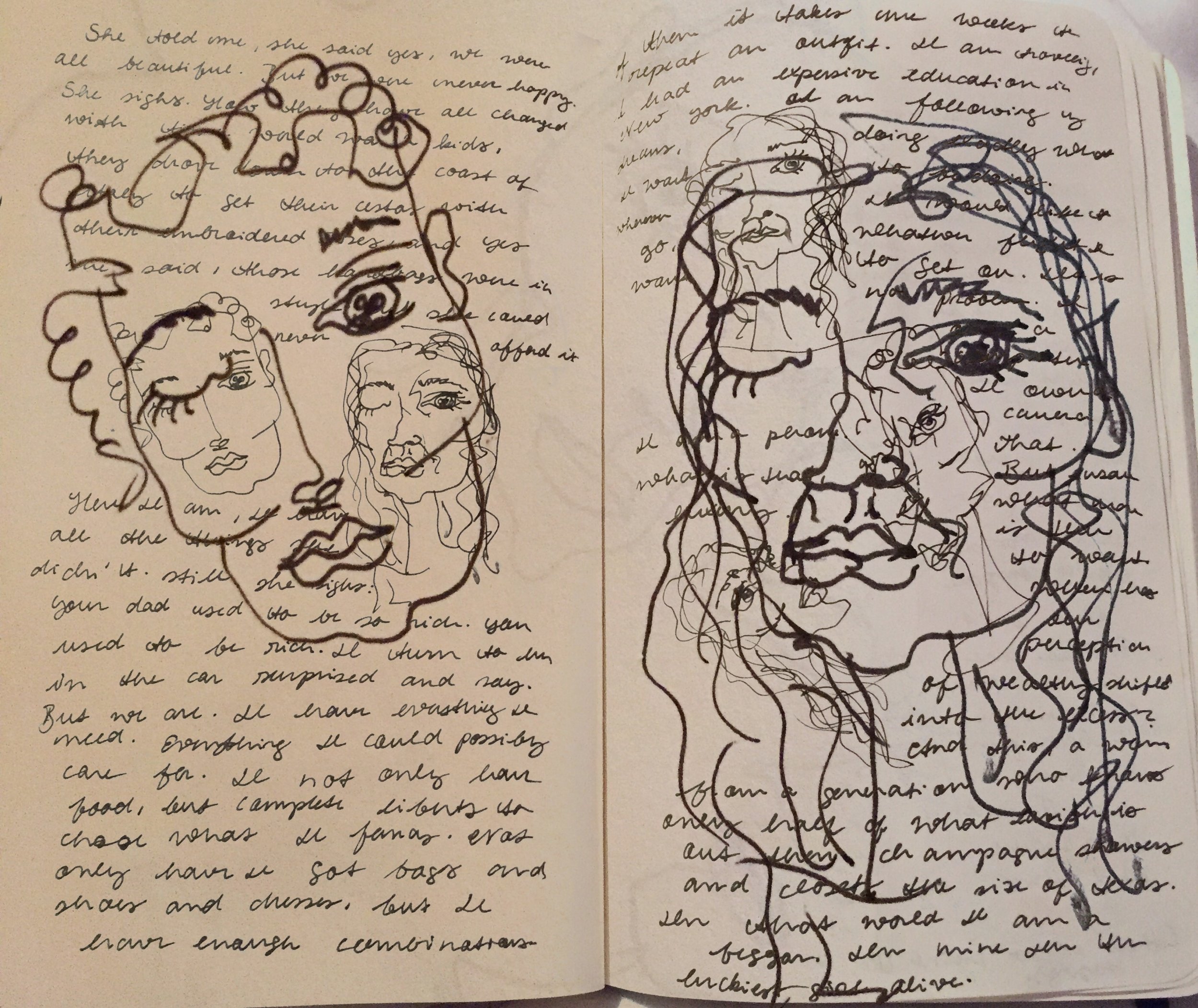 66. 'The luckiest girl alive'
Acknowledging philosophy as an art form and adding it to my mix of medias and my self proclaimed no-nieztschism.
Today, a conversation with my grandma turned into a story, turned into a socio-critical blog post at best and despite having worked on many different pieces through out the day I decided this thought, this moment and this day does deserve a place, and suddenly nothing else felt quite as right.
Since nobody can ever decipher my handwriting - beautiful as it may be - I will narrate this story through the plastic feathers, the digital ink, my tired fingers on the key board - Coming to you from a place of privilege:

She told me, she said, yes, we were all beautiful. But we were never happy. She sighs. How they have all changed with time. World war II kids, they drove down to the coast of Italy to get their cestas with their embroidered roses, and yes she said, those handbags were in style, but she could never afford one.
Here I am, I have all the things she did't. And still, she sighs: Your father used to be so rich. You used to be rich. I turn to her in the car surprised and say. But we are. I have everything I need, Everything I could possibly care for. I not only have food, but complete liberty to chose what I fancy. Not only have I got bags and shoes and dresses, but I have enough combinations of them it takes me weeks to repeat an outfit. I am travelling, I had an expensive education in New York. I am following my dreams doing exactly what I want to be doing. Wherever I would like to go, whatever flight I want to get on, it's no problem. I own a computer, I own a camera, I own a phone. That.
What is that but insane luxury? What more is there to want?
When has our perception of wealth shifted into the excess? And this, a woman from a generation who knows only half of what lavish is out there. Champagne showers and closets the size of Texas.
In that world I am a beggar. In mine I am the luckiest girl alive.
65. 'Separation anxiety'
A gruesome family backstory behind beautiful pictures. My father, his mother and all the secondary characters involved. Generational patterns. Separation anxiety in the past in the future and in within ourselves.
64. 'Forest fire'
In thoughts with all the people in California with their burning identities and lost egos. Rebirth. Like a phoenix from the ashes we rise.
63. And down the rabbit hole I went
Reality and imagination are so often one and the same thing. Explore Prague with me and all its portals.
62. 'A sunny day in Ljubljana'
A sequel to 'A sunny day in Berlin' I hope this video brings a little sunshine to wherever you are.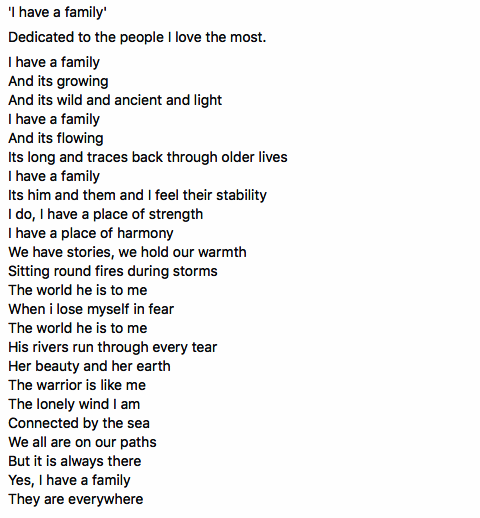 61. 'I have a family'
A poem for the people I love the most.
60. 'Youth' (1/2)
'Youth'
A collaboration with Hunter Andrews
Taken in Prague 2017
60. 'Youth' (2/2)
'Youth'

A collaboration with Hunter Andrews
Taken in Prague 2017
59. 'Breathing'
I butchered a genre and Im not sure which.
58. 'Heartless fool'
I hope you enjoy todays day and are cosy and safe, maybe still dreaming - I hope that doesn't stop when you wake - I hope your dreams are beautiful.
57. 'speaks for itself?' (i might change title)
DISCLAIMER: This project was a collaboration with Hunter Andrews (fellow Ubermensch)

This day of art is a commentary on our artificial influence on the natural circumstances that have been provided for us. The pink parrot symbolises mankind in its constant fracture as we try to capture moments that are beyond our reach, ever fleeting, merely proponents to a seemingly natural reality we have accepted as our own, as we get caught within the fauna we don't see the forrest for all the trees and can't see whats real and whats not and end up breaking within this everlasting solitude and sadness for we are one.
#iamtheubermensch #fuckwithme
(2017)
56. 'Something is missing' (1/2)
56. 'Something is missing' (2/2)
55. 'Overwhelmed in Prague' (1/5)
55. 'Overwhelmed in Prague' (2/5)
55. 'Overwhelmed in Prague' (5/5)
55. 'Overwhelmed in Prague' (3/5)
55. 'Overwhelmed in Prague' (4/5)
54. Open your heart chakra - Pt. II of the heart series ('100 Days of Art' Day 54)
I had a crazy enlightenment experience after my yoga wheel yesterday and I felt a rush of love wash over me - which only lasted about 3 minutes - until someone cut me off on my bike and that rush of love and its disappearance turned into a pure hatred for humanity. Thats when I knew I need my heart for everybody's safety.
53. 'Family portrait' (2017)
For those of you who know my family history im sure you can guess who the ghost is. For those of you who do not I advice you not to ask.
52. 'Women and men' (2017)
Inspired by Carrie Bradshaw and all the fashion, all the journaling and this beautiful goddamn day full of communication and sunshine I give you 'Women and men' - even I had trouble not calling it 'Men and Women' its what we sre used to hearing, but today was dominated by female friendship, empowerment and embracing honesty.
Long story short though, these are pretty drawings with a cool colorscheme, so lets not overthink it and enjoy each others company.
51. 'Nobody kisses better than a Chanel lipstick'
Poem:
I spent the day in silent fear
suppressing anger, love and tears
I breathe in threes and exhale twice
To feel release and still survive
The dash of red now on my lips
feels better than his modest kiss
my only lover is Chanel
she smells like rose and dresses well
All I ask in that man of mine
are well kept nails and a sharpened mind
kindness should find its way into his mouth
and easy banter, laughs
and blind I should smell his salty summer scent
a whiff of sea,
and deaf I should hear is cheeky wit calmly taking ahold of me
Now I am in solitary bliss
I know the goddess will grant my wish
I let go of all that was before,
I put on Frank, a robe and open my door.
50. 'tired'
too tired to write a description
49. A poem #2 Summerwine
Where do I want to be right now,
right here,
Why am I always asking myself where,
with whom?
When there is just me and you
The girl that reads my poems out a voice so soft like velvet,
the girl that sees the world through more than just lashes and eyelids,
my eyes are like a camera the pictures never fade my body like a canvas there are scars where I have bled
my eyes become like tunnels
when days turn into nights
my heart becomes a siren
when your hand is clutching mine
Summer wine are just the tears that flow our of my heart
then they turn to oceans
and the ocean is my art
48. 'Two crayons shape shifted into my mothers ghost'
Yesterday night my mothers ghost visited me so I decided to draw it. Two crayons lost their life for it, a black one and a white one - Duality on every level.
Anyway, we had a nice chat its all good. Here is the result of todays day of Art as well as proof of how short I am, or how big this drawing is - Is the glass full?
47. 'Looking for my childhood' (Grown ups / Children Pt. III)
This is part III of my series Grown ups / Children where I am looking for my lost childhood.
Its an installation piece and part of a series, not a stand alone short film.
46. Questions I have about life: A poem about depression and rage
A poem about depression and rage. Trying to put that into words at midnight after a day of painting and crying and singing.
44. 'Broken girls'
An anthem for all my broken sisters.
I got your back. I hope you enjoyed this little acoustic song today plus video of me ripping apart flowers. They were dying so I was just facilitating the decay and easing their pain.
That you for watching day 44 and I'll see you back here tomorrow.
45. 'Purpose/ Isolation'
Finding balance within isolation. Realising that while it might be necessary to detach now and again community is important for a humans wellbeing and inspiration. The people that surround me influence my happiness and feed my work.
I love humans they are why I do what I do and there should be a balance.
43. 'The Source'
Today I filmed an Interview I got requested to do with Oliver Hasse. The Interviews are coming, a series of beautiful questions, but this was the last one and there was an energy in the room unlike anything I could possibly describe. I was one with source and everything for a second and I wanted to translate that feeling into a video. Thank you for the moment Oliver.
42. 'How to sing with your heart'
PLOT: After drinking a tea with a message tied to the string of the tea bag "Sing with your heart", Ocean decides to take it as a sign: "Day 42 of '100 Days of Art' has to be me singing with my heart'. I don't know how in the world this happened, but when the impulse came I decided to go with it, despite having planned something else for this day. 'Sing with the heart' makes fun of the messages on the yogi the bags as much as my ego that takes everything so goddamn seriously.
My editing skills are admittedly shocking, but since I 'built' the heart in less than 30 seconds out of toilet paper and sellotape I decided my heart should just overall look like a goddamn joke. Of course there are metaphors present about heart/mind disbalance and miscommunication, but who cares about symbolic if you can just not think at all and be ignorantly blissful. You really ought to.
41. 'A wordless story of a Sunday in Berlin'
Vintage globes and clocks and a child spilling coke over her Burger King fries.
I decided to visit the Boxhagener flea market in Berlin on this sunny Sunday.
As an artist my mission is to romanticise the moment and I really hope I could do that with this little film.
40. 'Grown ups / Children Pt.II' (1/5)
'Grown ups / Children' (Pt.II)
1-5
A photo series and deepening of the ideas I started to explore on Day 38.
A reflection on the contrasts, transitions and a story of the loss of focus disguised as prioritising / growing up / growing out of our true nature into what they need us to be.
Blind.
40. 'Children / Grown ups Pt.II' (2/5)
40. 'Grown ups / Children Pt.II' (3/5)
40. 'Grown ups / Children Pt. II' (4/5)
40. 'Grown ups / Children Pt.II' (5/5)
39. The ego and the identity
In this piece I play with identity and ego and of course this is not about wine in any way. You can take the metaphor and use it to reassess if your ego is taking over in your personal life or you can just enjoy the show.
38. 'Grown ups / Children' (Pt. I)
Dear '100 Days of Art' followers and supporters.
This is Day 38.
'Grown ups / Children' is the first part of a series I will be working on for the next couple of days exploring all my mediums, dealing with childhood, and the non existence of 'the adults'.
As I age I realise there is no such a thing as a grown up. We are still growing in every way, and we are all still children. Always. And we die infants.
But with a little mystery I will leave you today and head back to work on Day 39 and Pt. II of this series.
37. 'Faces and dog' (2017)
Faces and dog, including the face of a sponsor who donated one hundred Euros to my project. He is a dog, among humans, find him - He found himself.
36. 'A mindless life'
'A mindless life' A moment of reflection, a monologue in the park. What does it mean to be normal? Does such a thing exist?
33. '100 Days of insanity'
Ladies and gentlemen, If you feel overwhelmed and overstimulated you might feel a glimpse of how it feels from in here.
I promise you don't want to know how it felt editing this. I do not wish such torture upon anyone (even Donald Trump).
Take this with a grain of salt. Its an installation piece not a short film. For you that is. For me its just current reality.
32. 'Little red thought'
Little red thought,
the thought you forgot about,
creeping in.
The guilty pleasure, the dream, the tingling on your skin, the one that breaks your heart,
the one that gives you a reason to live.
31. 'Don't stop me now'
Here is a song for you dream crushers. Passive and active. It's really hard to create shit everyday that nobody wants to watch because they are too busy watching game of thrones or panda videos, i don't know, whatever the cool kids are into at the moment. Here is my soul, can you squeeze it in between all those asos tabs and yet another documentary about the illuminati? All jokes aside, yes, it's not always easy to swim the waters in a world so muddy and saturated, to sing quietly whilst everybody is listening to the screamers, but the few of you that connect to my Art make it all worth while.
30. The teacher is angry
This video was obviously inspired by all the natural disasters happening right now. They aren't disasters as much as just part of the natural cycle the elements, but since they remind us humans of our mortality and complete lack of power, despite what we so desperately try to prove, we all freak out'
29. We are always loved by Nature
I hope this disturbed and confused you.
28. 'Phantom limb reversed' (2017)
'Phantom limb reversed' (September, 2017)
"I woke up and my arm was numb. It was dangling off my shoulder like a foreign tube. I jumped up and out of my bed in the still dark AM into chards of a mug I broke the morning before. Running around my room blood on my foot so loud and alive and my frozen arm I thought I would never use to play or paint again. I've never felt more terrified or caught in surrealism in my life. For just a second pure terror. Now it's passed and my life feels mundane again. Can't say what I prefer."
27. 'The place' a journal entry
The place that makes you tingle, the place that makes your heart flutter.
A journal entry from the 27th of February this year.
A reflection on the journey and the places I was trying to find.
26. In communication
Step 1: Listen Step 2: Look Step 3: Touch Step 4: Exchange
In communication reflects on our lost relationship with OURSELVES.
25. I wish this was enough for you
I wish you could put earphones in and sit in silence watching this. I wish no other tabs were open and your phone was out of reach. I wish you could be present in such silence, listen and watch closely instead of living in your mind and thoughts and worries and fears. I wish you could let go of everything, stand in this forrest and know there nothing to be lost, nothing to be gained - this is where you belong. A piece reflecting on our constant overstimulation. Movies are getting more aggressive, music is getting more chaotic, art has to scream in your face in order for you to recognise it. Here she is not asking for attention. Beautiful things never have to.
24. 'This is an oath'
Today was very important day for me. I left behind a piece of me that I struggled with for a long time. I have finally found closure and 'This is an oath' is dedicated to my friends and family who have known me in my darkest and stuck with me through it. Especially my close friends Anita & Patrick who had to witness Hawaii Jil and feel her first hand. This is for you. There is nothing more important in the world than knowing you are loved, and being kind to people, even when you feel pain in every pore of your body is something worth striving for no matter how hard it is. The key is loving yourself first. We've all head it a million times and before people start saying I have gotten soft I will leave you and go to bed. I hope you enjoyed day 24 and I hope I can shatter any unrealistic delusions you had of me as a person. Im an imperfect wreck and I have treated people terribly in my life. But what I do have going for me is perseverance to stand up and try again, be a better human every day. Thank you to the love and patience you have shown me. You know who you are.
21. 'New Air'
Today, day 21 of '100 Days of Art' is a an original song called 'New Air' to which I wrote the chorus in New York during my last week of living there sleeping on a mattress on the floor in an empty room.
I finished the song today with lyrics that I think capture the spirit of our time as well as omnipresent themes in my mind.
I hope you enjoy another piece about my search for emptiness and clean air.
20. 'ENERGY IN MOTION'
A short film with a narrative extracted from my journal, visuals from day 18.
"I am tortured and torn and everything is spinning. My body is heavy and I'm left alone with a head full of thick disgusting bleeding paint. A muddy dark green, the color you get when you mix too much shit together. Thats the one, and it makes sense, because everyone took a shit in my mind and someone sprinkled glitter on it and decided it was Art."
19. 'An unlikely self portrait'
'An unlikely self portrait' (2017)
18. 'Cinnamon and pain(t) on canvas'
'Cinnamon and pain(t) on canvas' (2017)
17. Me in my room - Part I
Spend some time with me in my room.

Who am I?
16. 'Don't let me hide'
This original song called 'Don't let me hide' is about how sometimes we draw back into our shells when we should the least.
15. 'Nothing makes sense' 2/2
'Nothing makes sense'
My journal is busting exactly like me
My mind is springing open
Theres nothing I want, theres nothing I see
Theres nowhere to go, theres nowhere to be
Im all the pieces of painted paper on the floor
Im the dirty brushes, the paint and the gore
The capless pens and the capless lense,
The finished piece, the cold tea,
The empty coffee cup
The tube of glue, they're all used up
But beyond these walls the sea and the sky
Beyond these walls I swim I fly
Beyond my mind, beyond my brain
Beyond I lie and breathe again
I hide my heart still.
When it comes out nobody is safe
Help it escape, help me unravel
Help me break, I want to travel
What do I need these eyes for
When I don't want to see
What do I need these walls for
When I just want to be free
Why do I keep hoping for rain
When I am so cold
Why do I keep open
When I am happier closed
I put on my jacket, Im almost out the door,
But look at all the scraps of painted paper on the floor
Look at all the people and then dont look at me
Look inside and look not with your eyes,
Then what do you see?
I am just as lost as you but I try to pull it together - well, all the things I ripped apart in the first place.
Nothing makes sense
Day 15 'Nothing makes sense' 1/2
14. 'Female Ancestry' 1-3
Our Ancestors, what they lived, what that turned them into, what they turned us into, how they are living through us.
13. 1/5
'Where they / I work' (2017)
13. 4/5
'Where they / I work' (2017)
13. 2/5
'Where they / I work/ (2017)
13. 5/5
'Where they / I work' (2017)
12. 'Don't mind me I am just angry
A little monologue I wrote the day I met the butterfly.
A sequel so to speak, illustrated now through visuals I angrily stick to my forehead as a metaphor to using creativity to express things usually bubbling underneath the surface. Using creativity to give light and voice to something that otherwise slowly but surely kills us from the inside.
Anger.
11. 'Our dreams'
Today I've been locked up, and thank you sky for the epic thunderstorm to give me an excuse to stay in this Friday night.
I have been looking at everything I've ever done. I've been sorting through pictures and video diaries and bits and pieces of paper, five second voice notes on my phone that make no sense at all in retrospect but there was something important I had to record and I am sorting through it all.
There is so much I want to let go and there is a person I want to be. I know who she is, I know what she is capable of doing, but to come out she needs space, she needs full freedom and she needs a moment. I need the moment, and so I delete my past, I alter the things that don't suit me and collect the beautiful pieces into my works, the things I've learned and the people I've loved all stay in their most beautiful form, but everything else I will watch light up into flames (not just light up, I am holding the match) and then whatever bird comes out of those ashes will be a reincarnation of who I once was.
And then the games begin.
10. Last night you freed me
Making these things, recycling thoughts and footage, finally getting down to doing things that have been on my list for ages, I am finding that there are more patterns in my life than I was aware of and my mental health is really grinding things out.
9. Innocent lovers
A sequel to the butterfly story.
song I wrote in college. One of my first, re-recorded and edited into a video cause coherence.
I hope you enjoy. I hope it adds something to your life. I hope it adds something to mine.
8. This is not about a butterfly
Its not about the butterfly. It never is.
7. There is an Ocean inside of me
Idolising, sexualising, immortalising myself.

Whats art, whats narcissism is it the goddamn same?
Whats iconic, what authentic, whats stolen, is it the goddamn same?
I hold everyone and everything that has ever existed and that will ever be. There is a goddamn Ocean inside of me.
6. "Dafür gibts nen Markt" Vater
5. 'What are you, who are you, what have they done to you?'
As an artist you absorb everything around you, anything you consume becomes part of your work.
I won't give away what I've been consuming, but it borders on the sea between violence and vulgarity.
How much of what we interpret into a piece of Art is our own imagination? How much is true? Many people have given my work a meaning I had not seen before, and often its exactly what I was trying to explain without finding the words.
I don't find words, I digress and digress, I never come to the point, and thats why I need to make things my heart and soul can express themselves through, something that people can look at and find the things I can't say.
I see confusion, I see vulnerability but I see a mask.
I see violence, I see perversion but I see tranquility and defeat.

What do you see?

Yes... I think you're right...
 
4. Minimalism (100 Days of Art)
11th of August 2017, an entry straight from my journal.
Today I had another conversation that, like yesterday, led me to repeat my true intention. Why I make Art.
I want to bring humans back to themselves and back to the moment, share the beauty of presence and simplicity.
The ego is a big part of making Art, without it nothing would ever happen. Without a sense of self there would be no need of creativity of any kind, not even reproduction.
Art needs ego, but we also need a strong sense of purpose so we can use our self and drive to actually GO somewhere. Somewhere humanity should steer towards.
I believe in letting go. Of anything that does not serve us, make us happy, add to our life in any way that makes sense on our path with our purpose.
I hope I can romanticise selectivity and using objects as a symbolic tool.

Look around you, how can you liberate yourself in this moment.

Breathe out, empty yourself and create with purpose.
3. When I travel (100 Days of Art)
When I travel reflects on what we take and give.
In the beginning I take space, I take your attention, I put on my mask, my persona, I tell people what they should be seeing. I do this to show you your freedom. Through mine. By taking up my space I want to give you permission to take yours. Nobody owns you, nobody owns the world. Your life is yours.
Freedom through inspiration and self-reflection.
Should everyone travel, can everyone travel, does everyone want to travel? Is it ok not to want to travel? Does that mean you are stuck and not growing. Do we have to grow? Does there have to be a journey in life, does there have to be coherence? Does it have to make sense?
 
2. "Guests in my house"
Why I selected this work for today after asking for advice, after realising I didn't have to.
The humans that live in me, in my heart, who placed all of you in there?
Who are you people, I don't think I've ever seen you. But then the heart sees a face that looks more like the peoples soul, my heart doesn't see you the way you see yourself in a mirror, my ego sees you the way I see myself, my soul doesn't see you at all, my soul feels you.

The audience.
Are you watching from inside me or don't you see my heart at all? Can you feel how much I love you? I don't know if I can.
You are living in my heart now that you've seen this, you have heard my mind speak from inside my brain if you've heard me.
If you can see me, through me, beyond me... but I'm hoping you can. I'm hoping thats what I do when I make art.

Life in constant progress, an idea in a uterus, a spark in my heart, and somewhere in there I think I've seen you. Keep looking, keep getting lost, I'll come and find you.
1."TO YOU, THE OBSERVER" (100 Days of Art)"
Today I am leaving you with a piece directed at you. Being an artist, leaving everything out in the open, giving you my heart, dangerously living in constant intimacy. Breaking the forth wall I hope to give you a sense of what I feel living in transparency.